Insulated and uninsulated fibreglass tanks
We manufacture purpose designed fibreglass tanks up to 100,000 litres for specialist processes, such as beverage, winery, brewing, dairy, food stuffs, industrial, pulp and paper applications together with water and sewerage systems.
Custom made tanks can be manufactured to any shape and can include various features such as injection hatches, pipe outlets, and pump mountings. Bringing ready-made tanks to site reduces time and cost in building on site. This will shorten the construction time and assists in meeting the completion date allowing the building owner & occupier to become operational as soon as possible.
Our standard moulded tanks are available from 750 litres to 100,000 litres or can be custom made as required, and in a range of colours. They are manufactured to BS4994 and AS2634 and all stages of the manufacturing process are controlled to meet the requirements of these Standards.
Designed by our experienced engineers, The Composite Group tanks can be manufactured;
to operate up to 99 degrees Celsius using special resins and a full post cure of the finished moulding
with the added benefit of earthquake restraints that are specifically designed to suit the intended geographical location
to accommodate any fittings required. This eliminates further work on site and speeds up the installation process
with COMPOSITE THERMACLAD tank insulation
Our fibreglass tank is suitable for mounting above or below ground and can be located into alpine regions and/or difficult access sites due to its light weight construction over concrete.
COMPOSITE THERMACLAD tank insulation
Our COMPOSITE THERMACLAD insulation system has been designed to meet the requirements of the wine industry utilising the high insulation value of P.U. foam and the durability of high gloss corrosion resistant, and UV stabilised fibre reinforced plastics (composites). The system also has many other applications for hot or cold use tanks and heat recovery applications.
The Composite Group also manufacture storage bunds or can line existing bunds where chemical resistance is required.
We can deliver anywhere in New Zealand.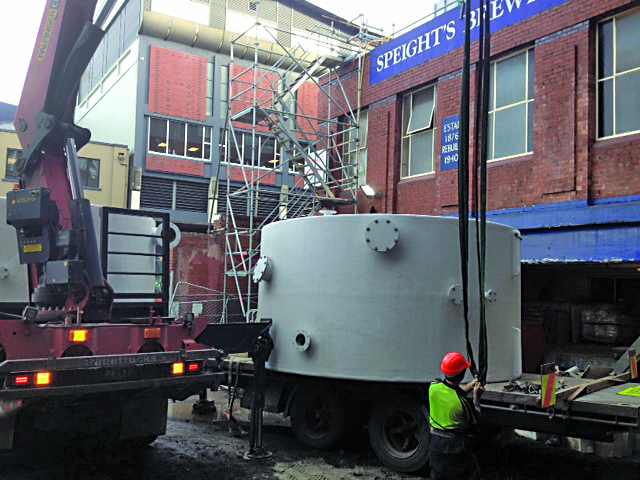 A Marlborough winery installation with stainless steel tanks clad in COMPOSITE THERMACLAD insulation. Christchurch manufactured fibreglass tanks (insulated) have been supplied into wineries in both the North and South Islands for storing Glycol cleaning fluid.